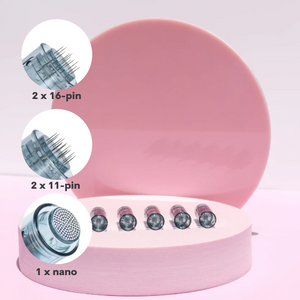 Pay over 4 instalments of $7.48.


Target fine lines and wrinkles
on the face with this Dr. Pen M8 5-piece combo cartridge pack.
The 11-pin and 16-pin microneedling cartridges are
essential for smoother, healthier, and more youthful-looking skin
. Use your nanoneedling cartridge with your
Dr. Pen M8
in between your microneedling sessions to boost hydration and restore younger-looking skin (without downtime).
Each cartridge in our combo pack helps support the skin's natural collagen production and
rewinds the signs of ageing, scarring, and pigmentation
.
We recommend using
Femvy Hyaluronic Acid Serum
with both nanoneedling and microneedling treatments.
For Best Results:
Microneedling should be performed every 4-6 weeks
Perform nanoneedling once a week (ideally in between your microneedling sessions)
Key Features
Needles are made from high-quality stainless steel, making it suitable for surgical, pigmentation, deep wrinkle, and acne scarring applications
Cartridges are designed for single-use only.
Do not reuse the same cartridge.
Compatible with the Dr. Pen M8 (device not included)

What's included?

2 x 11-pin cartridge for the Dr. Pen M8 microneedling pen
2 x 16-pin cartridge for the Dr. Pen M8 microneedling pen
1 x Nano cartridge for the Dr. Pen M8 microneedling pen

*MICRONEEDLING PEN NOT INCLUDED, SOLD SEPARATELY

Important: Microneedling cartridges must be sterilised before each use to ensure the treatment is safe and hygienic. It is essential to follow these steps carefully to ensure that the microneedling cartridges are properly sterilised. Here are the steps to sterilise microneedling cartridges:
First, ensure that you have all the necessary equipment for sterilisation; gloves, isopropyl alcohol solution (70% or above) and a clean container to hold the solution.
Put on your gloves to avoid contaminating the cartridges during the sterilisation process.
Check on your cartridge; ensure the needles are in perfect condition (i.e. not bending) and remove any debris.
Pour enough alcohol solution into the container and dip the cartridge needle into a sterilisation container, then soak for a couple of minutes.
If you have alcohol solution in a spray model, you can spray it towards the needle head of the cartridge.
Once the sterilisation is complete, allow the cartridge to air dry before using it.
Finally, your cartridge is ready for use.

How to use
T

o ensure there is no cross-contamination, cartridges must be sterilised before treatment

.

Fully tie back your hair, away from your face.
Double-cleanse (cleanse and repeat), then wipe the skin clean with an alcohol wipe.
Work in small areas and apply the serum (recommended: Femvy Hyaluronic Acid Serum) to each area before needling. This will help to ensure that the pen does not drag or pull on the skin. The recommended pattern to move the pen for best results is vertical, horizontal, and then diagonal in both directions. Using a light pressure and without dragging, repeat this motion over each area two times. 

How to do nano needling
Start by tying the hair to keep them away from the face. Wash the face using a cleanser to eliminate all makeup, dirt, oil, and other debris on the skin.
Open the new nano cartridge and carefully attach it to the Dr. Pen device.
Do not touch the tip of the disposable cartridges to prevent contamination.
Apply a few drops of a hydrating serum (Femvy Hyaluronic Serum or Femvy Peptide Complex Serum) to the face just before working in small areas.
Move the microneedling pen in vertical, horizontal, and then diagonal directions.
It is recommended to work in a grid to ensure that every area is treated well.
Only put light pressure on the skin when using the device.
Please note: Comprehensive instructions are included with the device, including diagrams and helpful advice to get the best results. These instructions are also available for download via our help desk at any time, and our friendly customer service team is ready and waiting to answer any questions you may have.
DO NOT USE
On open wounds. 
On acne or irritated skin. 
If irritation occurs.
Use up to a maximum of 1mm. Refer to the

 

Dr. Pen Needle Depth Guide. Please speak with your doctor before purchasing any Dr Pen products. The content on this site is not intended to substitute for the advice of a qualified physician, pharmacist, or other licensed healthcare professional. The products may have additional information and instructions on or inside the packaging that you should carefully read and follow. Contact your healthcare provider immediately if you suspect that you have a medical problem. This product may not have been evaluated by the Food and Drug Administration and is not intended to diagnose, treat, cure, or prevent any disease or health condition. For any concerns or questions, please contact your GP or dermatologist.